Pastry term of the week: Kouing Aman
Kouing aman is a flaky, gooey and crunchy laminated pastry from Brittany, France, specifically Douarnenez. In Brittany, they use their amazing salted butter to give it the salted caramel flavor. Our version is loaded with fleur de sel from the region which makes the syrup between the layers less sweet and gives it a crunchy, salted caramel exterior. We love the different textures and flavors.
We started making them at Les Madeleines approximately 10 years ago, when they were still very obscure and not often found outside of Brittany. Not many patisseries in Paris were even making them then. Kouing aman immediately broke all the rules. Guests loved the pastry, even though they couldn't say the name and had never heard of them. The Kouing Aman quickly became our most popular item and found their way onto the pages of several national magazines and two Food Network programs.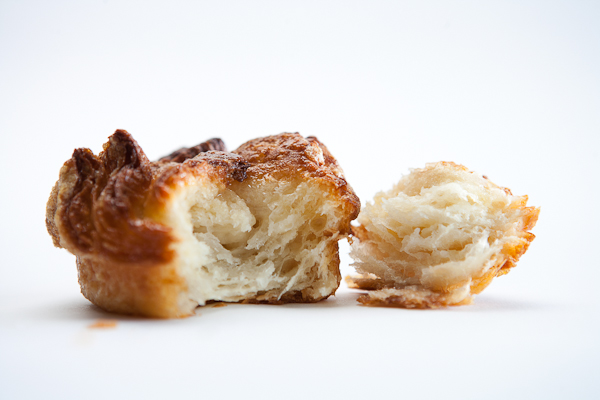 [A note on spelling… the original recipe for kouing aman we found was spelled with an "ing" at the end, but it turns out that the "ign" ending is more common and you'll often see it spelled kouign a mann instead. This is because the Breton dialect Romanization was standardized in the early 1970s, the "ign" ending was adopted. We made a choice to stick with the spelling we found in the beginning as it is still used my many chefs for whom Romina has a tremendous amount of respect and admiration.]